GTVA Guidebook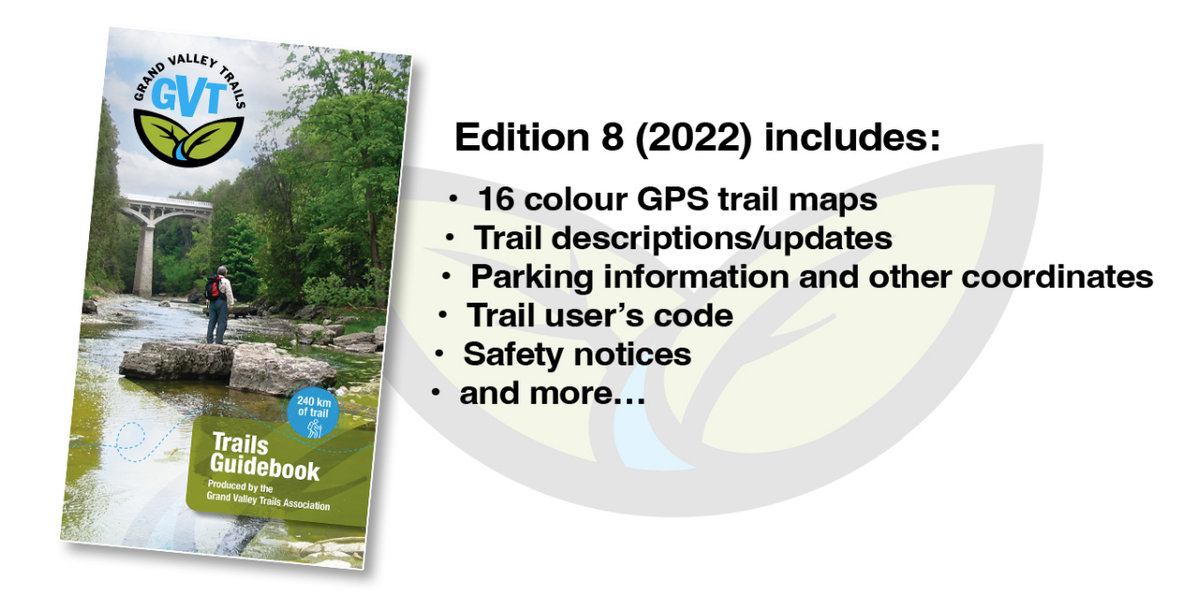 The Grand Valley Trails Association Guidebook provides detailed descriptions of each section of the footpath, including points of interest, historical notes, flora and fauna, terrain and seasonal conditions, parking and amenities. The profits from the sale of the Guidebook are used for the purchase of trail maintenance materials such as pressure treated lumber used to build foot bridges, boardwalks, box culverts.
Visit Store to purchase your copy of the GVTA Guidebook.
The GVTA Guidebook is now in its 8th Edition. First printed in April 2015, the Guidebook has been revised and updated in the fall of 2022. Any changes to the trail after the last publication date, will appear on Trail closures & reroutes.
The Guidebook may also be purchased at the following retail outlets.  We suggest you phone in advance to ensure the retail store has a copy.
Adventure Guide Inc.
225 The Boardwalk
Waterloo, ON   519-886-3121

Roxanne's Reflections Books & Card Shop
152 St. Andrew St. W.
Fergus, ON  519-843-4391

Book Express, Cambridge Centre
355 Hespeler Rd.
Cambridge, ON  519-621-9500

The Neat Little Bookshop
29 Talbot Road West (Hwy 3)
Cayuga, ON  905-577-5635

University of Guelph Book Store
MacNaughton Building
50 Stone Road East
Guelph, ON  (519) 824-4120 x53715​1

Green Heron Books
47 Grand River St. N.
Paris, ON  519-442-1822

Words Worth Books
100 King St South
Waterloo, ON  519-884-2665