Hike Leader Training
  Do you want to lead your own group hikes?
Certified Hike Leader
Learn to lead hikes safely 

Hike Ontario, in partnership with the Grand Valley Trails Association, is offering a one-day Certified Hike Leader training course on Saturday, March 17, 2018, in Elmira.  GVTA will cover the costs for any person holding a current GVTA membership and willing to lead GVTA hikes. Registration is now open on-line through EventBrite at:
https://www.eventbrite.ca/e/certified-hike-leader-031717-elmira-tickets-42099838751 
This course is provincially recognized and designed to give those interested in leading hikes the necessary knowledge to plan, advertise and safely lead day hikes within 2 kilometers of access to Emergency Medical Services support.
Course content includes:
Planning a Group Hike

Leadership Styles & Responsibilities

Risk Management

Utilizing Maps & Trail Guides

Environmental Appreciation
All course participants receive a manual covering the entire course content.
Cost: $60.00*  (PLEASE NOTE: This course is for experienced hikers)
Please contact Charles Whitlock, walkaway.treks@sympatico.ca for the no-charge promotional code when registering for the course or for other related information. There are only 10 seats available.
______________________________________________________________________________________________________________________________

GVTA Hike Leader Certification Requirements
Be a member in good standing with the Grand Valley Trail Association
Attend a Hike Leader Training workshop by the GVTA or Hike Ontario to learn the standards of hike leadership
Apprentice on 3 already scheduled hikes by a certified hike leader
Be certified in Basic First Aid and CPR by either the Red Cross or St. John's Ambulance
Be able to plan, publish and lead a hike for the GVTA with a certified hike leader as end person/sweep.
Lead at least 3 hikes per year to maintain certification
Practice the Trail Users' Code
Be organized and able to complete administrative work (Waiver of Liability and Assumption of Risk, Incident Report)
Working Toward Hike Leader Certification
A GVTA Board of Directors Goal
The GVTA supports the concept of setting standards of hike leading. In addition, liability issues have led insurance companies to recommend that hiking associations across Ontario provide certification for hike leaders. The GVTA has taken the initiative, as have a growing number of hiking groups, by offering hike leader training. 
Have you completed the Hike Leader Certification requirements recently?   CONGRATULATIONS!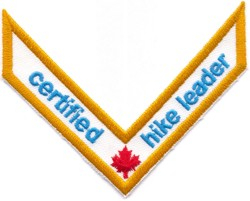 In order to obtain your complimentary "Hike Leader Chevron", please email the Hike Coordinator using this link Request for Hike Leader Chevron filling out the information about the course you completed.